Serving 3 Generations of Family
N
ot much has changed over the years at Schmucker's Restaurant on Reynolds Road in Toledo.  The 13 chrome stools at the lunch counter have been there from the beginning, as has the wooden phone booth in the corner. The food is still good, plentiful and inexpensive.
Co-owner Doug Schmucker believes the ability to stay connected to the past has been key to Schmucker's long success.  "We're not trendy, not a national chain you can find in every city," Mr. Schmucker said of his faded yellow-brick diner. We offer real home cooking. I know a lot of national chains claim that, but when I have someone here hand-peeling potatoes, chopping French fries, and making pies every day, I think that gives 'home cooking' a better definition compared to what you'd get at a chain," said Doug.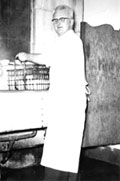 Started in 1948 by Doug Schmucker's grandparents, Harvey and Nola Schmucker, the place originally was called Schmucker's Dairy Bar and focused on ice cream and pies made by Nola.  As the business changed into a restaurant, pies remained a constant to Schmucker's service.  Harvey always said if you provided "Good Food, at a Reasonable Price" and made sure customers did not "Go Away Hungry" they would come back for more.  And, ever since then, they always have.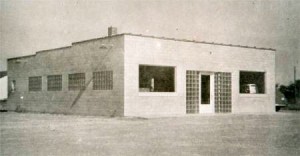 "I have people asking me weekly, 'When are you going to remodel or expand?' I usually respond, 'Why? So I can look like every other restaurant?'"
Harvey and Nola's children worked with them during the early years. Allen, their son, pedaled a three-wheeled tricycle around the neighborhood with a freezer box between the front two wheels with homemade ice cream novelties to sell, and eventually made Schmucker's his life's work.
Schmucker's became a restaurant, named
Schmucker's Restaurant offering full breakfast, lunch and dinner.  Made-from-scratch meals became its specialty, with hand-peeled potatoes, soups from scratch, and gravies made with broth from slow roasted beef that littered the menu.
Allen and Alice's children, Tim, Doug and Judy enjoyed working at the restaurant throughout their high school years.  When Allen died, Doug assumed general management duties, and he has made Schmucker's his life-long career.  The Schmucker family wants to acknowledge God's faithfulness over the last seventy years through many highs and lows and for the tremendous hardworking staff that make Schmucker's what it is today.